Bib #22 – Badwater Salton Sea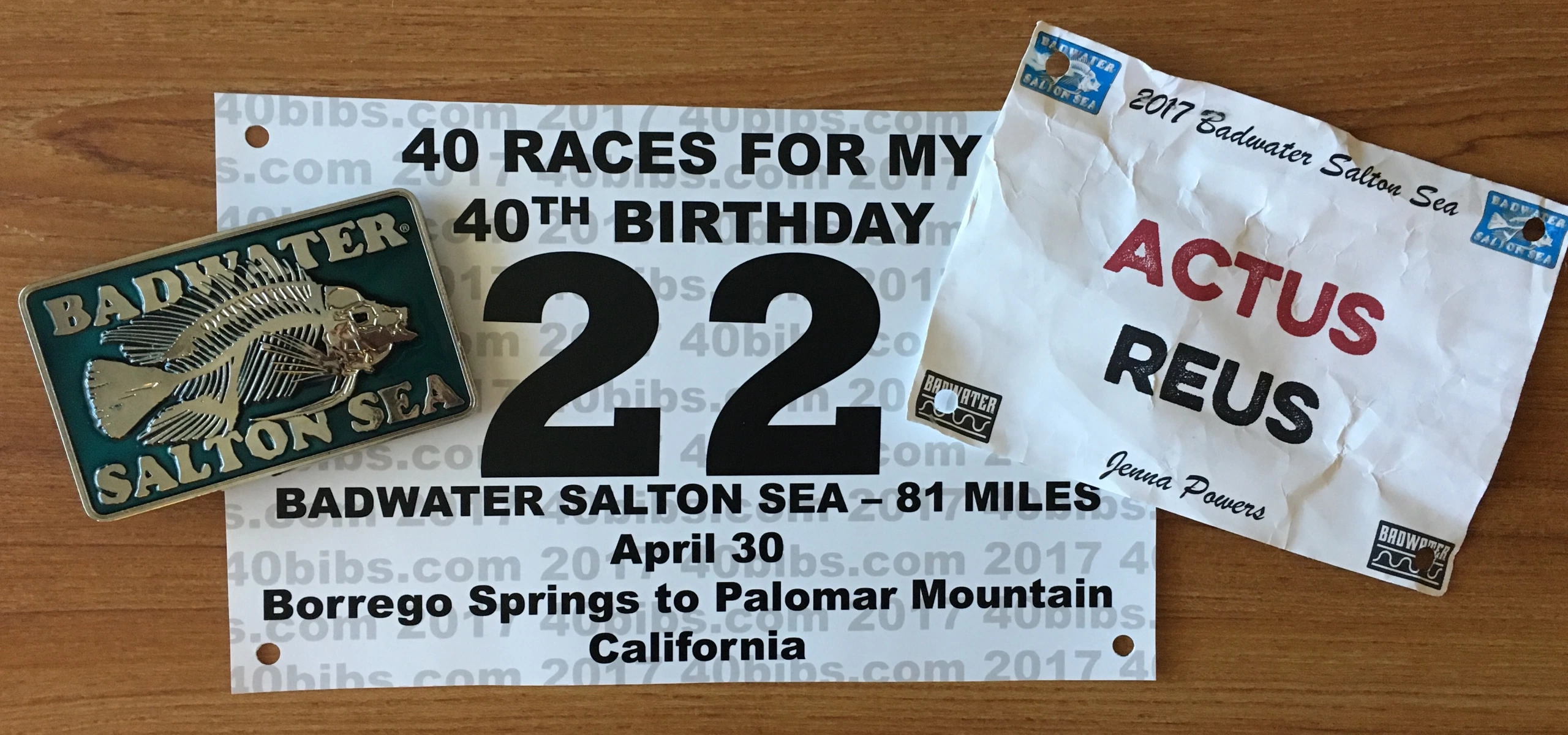 This is a story where I discover I'm consumed by a drive to do my personal best to the exclusion of everyone and everything else. And if that sounds like a positive trait, then I haven't begun the story correctly.
"This is not about you," Race Director, Chris Kostman, told the room full of racers and their crews during Saturday afternoon's pre-race briefing. Designed to allow the greatest number of runners to experience the Salton Sea, Anza-Borrego Desert and Palomar Mountain areas of rural San Diego County with the smallest amount of impact to the landscape, the Badwater Salton Sea is a team event, wherein teams of two and three racers supported by a single crew car leapfrog their way through the 81-mile course. Unlike a relay, where racers "hand off" to one another throughout the day, Salton Sea requires runners to complete the entire 81-miles together.
I began to worry about my partner, Robert, around the 25-mile mark, just over a quarter of the way into the race. The sun continued to climb in the sky and it was taking its toll. We were stopping more frequently for water, and despite my (likely not particularly helpful) needling, these stops weren't quick. For runners like Robert and I in the middle of the pack, stacking up minutes at the aid stations (or, in this case, at the car serving as our portable aid station), can be the difference between missing a cut-off later in the race or being allowed to continue. And, quite frankly, Robert just looked bad to me. And sounded bad. All signs that did not bode well less than five hours into a what was likely to be a 24-hour day.
Time Station #4, the California Riding and Hiking Trail trailhead at Mile 40, was my sole focus of the daytime portion of the race. The hiking trail would feature the toughest terrain, a nearly 4,000 foot climb over eight miles at the hottest part of the day. And, if begun too late, much of the climb would occur in the darkness.
The time goals I had mapped for us put as at the trail at 2:50pm on the early side, and 4:30pm on the late side. "I think we can make it to the trailhead by 2:00," Robert said, as we neared the 35-mile mark, walking. Without a watch, he had no way of knowing the actual time. "Doubtful," I said. "It's 1:45."
I arrived at the trail head, Mile 40.5, several minutes in front of Robert, violating race rules requiring we stay within 25 meters of one another. In truth, I'd been violating the rule for the better part of 10 miles. Race rules required that we be on the trail no later than 5:30pm or be pulled from the race. I hadn't trusted, between the slowing pace and continued stops, that we'd get there in time. Instead of discussing this with Robert, however, I'd just walked faster.
Robert and I stepped onto the trail together at 4:20pm, later than we'd both wanted, and disheartened by the thought of completing what we'd estimated to be a 4-hour hike in the dark. And, for the first time all race, I too felt I just wanted to throw up and take a nap (in that order). According to our crew, the car thermometer read 97 degrees.
We stopped and sat three times in the first half mile, a climb that takes racers nearly straight up, overlooking the parking lot where we could see the other teams filtering into the time station and beginning their climbs towards us. I looked at my watch, and suddenly had visions of this 4-hour journey taking six hours our eight hours, in the dark and in the cold without enough food and water, because we'd only packed for four. We got up to move a little further up the trail, every other team still on the course now surrounding us. A minute went by, and I turned around. Robert was gone.
We'd settled on the team name, Actus Reus, because we'd wanted something cheeky that gave a nod to both physical activity and the law degrees we both possessed. It is the latin term for "guilty act" which, when proved beyond a reasonable doubt in combination with the mens rea, "guilty mind," produces criminal liability. It was ironic; because when Robert disappeared from behind me, quite obviously having stopped in the last 60 seconds to sit again, I didn't go back to get him.
I don't have good answers for this; only the rationalizations I made for myself in the moment and over the nearly six hours before I saw him again. I stayed put where I was. There were people all over the trail. I walked again slowly. I waited some more.
I emerged from the trail four hours after I'd gone in, nearly to the minute, and climbed into the back of our waiting crew car to change into my night time clothes. Forty-five minutes later, carrying two hours' worth of food and water and without a sign of Robert, I got back on the course. "You have to make a right turn five and a half miles down the road," my friend and crew member, Lisa, told me. "Call me when you get there so I know you're okay." I nodded. "I'll be okay," I said, knowing Lisa needed to stay with the car and wait for Robert. "If I run out of water, I'll get some from another crew." It was 9:00pm.
Miles 48.5, the end of the trail, through 68, are virtually all downhill; technically the easiest part of the course, if you ignore the fact that runners have now been on their feet for nearly 15 hours. I'd taken off running, and made it a mile a half before Lisa caught up with me in the car. "You need to come back," she said. "They're going to disqualify you."
To many, crewing sounds like the easy part of a race. After all, the runners are running it; crew members just drive around in the car. But crewing is much more than that. It involves long, arduous hours of captivity to runners' needs. Lisa did not only that for me, be she acted as my advocate when I wasn't there to advocate (and, likely didn't deserve to advocate) for myself. I made the mile and a half trek, now uphill, back to the trail, where two gracious race officials, bundled to their cheeks in winter hats and hoods against the now dropping temperatures at the top of the trail, explained to me what they never should have had to: "You have to stay together, or we will disqualify you."
Robert and I, now together again 15 hours and 20 minutes into the race, walked what felt to me to be very slowly. "How do you feel?" I asked him. Just okay. "Do you think you can go any faster?" No.
Ninety minutes went by. In the distance, the now-familiar tail lights of our crew car, blinking in the night time, stopped just before the right-hand turn. We'd walked five miles. I turned to Robert and had the conversation I should have had with him seven hours earlier on the trail. "I don't think we can do this." In response, he did for me what I was incapable of doing for him: he gave me the opportunity to finish.
At Mile 55, 11:20pm, the crew made the call to the finish line at the top of Palomar Mountain. Robert was officially dropping out which, according to the rules, meant I could continue on my own. I crossed the finish line at 5:40am, 23 hours, 19 minutes and 20 seconds after starting. Lisa was beside me, Cierra, asleep in the car, and Robert sitting on the couch eating noodles. If anyone cheered, I don't recall it.
Robert and I disagree about whether we could have finished within the 28-hour cut-off. At the time he dropped out, we were minutes ahead of two other teams, both of whom would go on to finish in just under 26 hours. He'd spent the entirety of the trail portion with one of the teams. From my vantage point, he'd been struggling for nearly the entire race, and would only continue to get slower as time wore on and we were faced with 5,000 feet of climb in the last 12 miles.
It doesn't matter who is right. My actions were wrong.
Robert plans to come back next year and finish the race. It's not likely to be with me. For all the ways I've written that being a distance runner makes me a better person, this event brought out the worst in me. And for all the people I've had to make right with over the last two days: Lisa, Cierra, race officials, Race Director Chris Kostman, and, of course, Robert, I at least owe it to them to figure out why. While the experience is still fresh, I think it has something to do with having certain standards for myself and being unwilling to compromise on them. And, if you think that an inherently positive trait, I've not told this story correctly. As Chris quite plainly put it on Saturday afternoon, "this is not about you."
The post script is this: Robert, Cierra and I are still friends. Lisa and I are still friends. And I don't think Chris Kostman hates me, though he will probably create a new, written rule for next year's race outright prohibiting "unofficial" mid-race separation. I appreciate their willingness to forgive.
The true epilogue will come later. I'm 110 days away from my 40th birthday. I have 18 more races to go this year, and hundreds more training miles. And I'll use them all to just try and be a little bit of a better runner and a better person than I was before. At base, this is what 40bibs is all about.