Bib #4 – Walt Disney World Dopey Challenge – Unofficial Half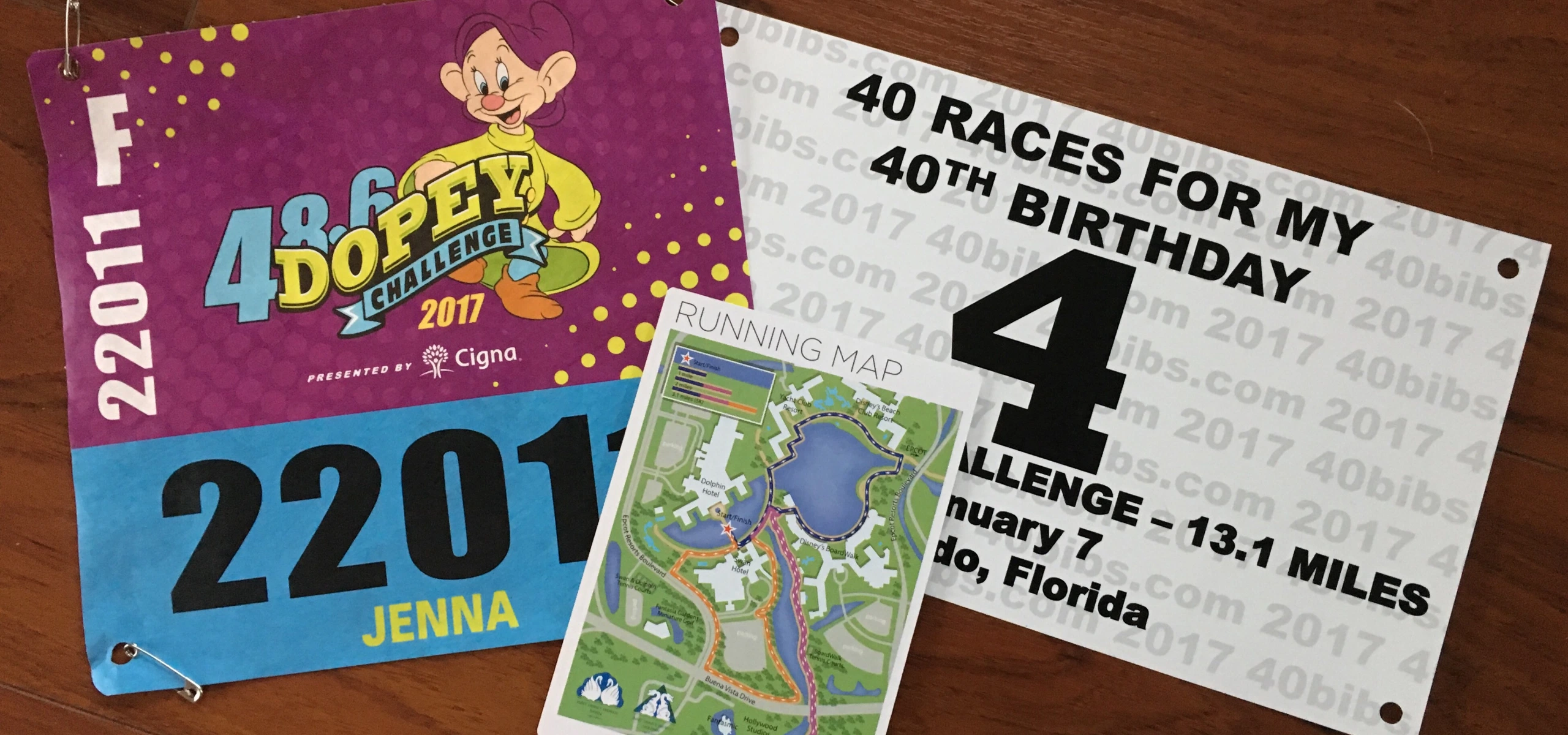 By 10:00pm Friday night, the Walt Disney World Half Marathon hashtag was trending on Twitter, right behind a Fort Lauderdale airport shooting that claimed five lives.
"In an abundance of caution," the announcement read, "the Walt Disney World Resort has canceled all running events on Saturday, January 7, 2017 due to weather conditions. This includes the Walt Disney World Half Marathon and the runDisney kids races."
For more than 20,000 registered half marathon runners, this meant months of training and sacrifice for not. For nearly 10,000 registered for Goofy's Race and a Half (half marathon and full marathon) and the Dopey Challenge (5k, 10k, half and full), it meant a challenge unfulfilled. While nearly all understood safety being paramount (especially once most of us were awoken by cracks of thunder around the time we otherwise would have been on our way to the start line), it was still hard to accept. Disney offered up our medals, but who wants a medal for a race you didn't run?
Running is perhaps the simplest form of exercise. Despite an obsession with the latest gear and gadgets, the truth is you only need your sneakers. And if you only need your sneakers to run, how much more, really, do you need to run a race?
The answer, it turned out, was a handful of people who felt the same way. (Check out my live, mid-race broadcast!)
Once the last of the storms cleared around 8:30am, three hours after the official race would have started, bibbed and costumed runners began dotting the paths and walkways snaking through the Disney resort areas.
By 10am there were hundreds, cheered on by spectators and non-running visitors.
"Aid stations" and cheer zones appeared.
And, one by one, two by two and in groups, runners completed their 13.1 miles.
I am honored to be among that group, having boldly run in a T-shirt announcing, "WE RUN THE WORLD." Hyperbole, perhaps, but for a brief time today, we runners did run Disney– on our own terms.
"So," I've been asked. "Does this count as one of your 40 bibs?" To the extent that a race has a definite starting and ending point, and some kind of official clock so we can all track exactly how long it took to run the prescribed distance, no, I don't think this counts. But to the extent that the purpose of my 40bibs journey is to, as my friend Julie Hinson would say, "grow and become;" to the extent that the journey is about seeing what I'm made of; and to the extent that it's about supporting other racers, the answer is, yes. And I cannot think of a race that would count for more.