Bib #15 – Bataan Memorial Death March 26.2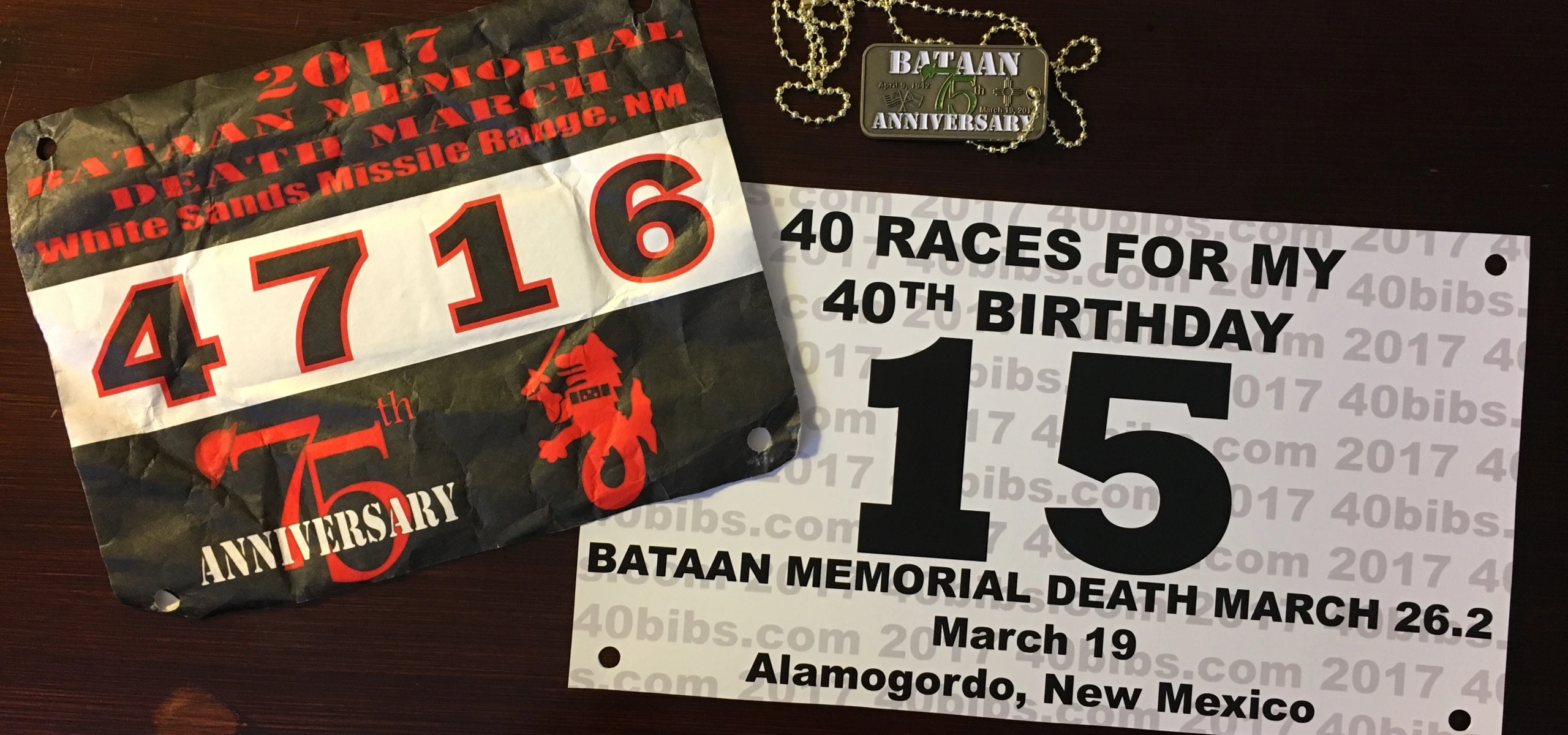 It's 83 degrees, and the marchers have been out there for nearly 12 hours.
I'm sitting on my hotel room bed, typing my blog and enjoying a movie and a glass of wine. Before that, I made an emergency trip to the mall across the street after my hair dryer broke mid-blow out. Before that, a shower. A post-race snack at a local pub. The 40-minute drive from the White Sands Missile Range. My own race finish. And, in all that time, the other racers have been out there on the course.
My friend, Robert, and I commented as much on the drive back to the hotel, when we could see marchers out our window around the 16 mile marker, the temperature nearing 90. This is, after all a "death march." (Check out my live, start line video here).
Begun nearly 30 years ago to commemorate the Bataan Death March, the Bataan Memorial Death March drew 7,000 marchers in several categories for this, the 75th anniversary of Bataan. Most notably, the Military Division, requiring marchers to wear full, regulation uniforms for their branch and unit; and the Heavy Division, requiring marchers to carry a 35 pound backpack for the entirety of the 26.2 mile race.
The original Death March was not so easy. On April 9, 1942, the Japanese Army forcibly transferred 60,000-80,000 Filipino and American prisoners of WWII, forcing them to march on foot approximately 60-70 miles.
The march was characterized by severe physical abuse and wanton killings, and was later judged by an Allied military commission to be a Japanese war crime. – Wikipedia
Thousands died along the way.
And thousands came out on the morning of March 19 to honor them.
A mix of paved road and sand trail (approximately 20 miles of the latter), the march is akin to a trail race.
With high temperatures, deep sand in places, and the majority of participants in full military uniform and/or carrying 35 pounds, it is a slow race. The final finishers in several categories crossed the finish line over 14 hours after beginning, right around the time I was eating dinner and finishing my second glass of wine.
A lover of long distance races, I don't typically have the "easy day." But running in the Civilian Light Division, in technical shorts and a t-shirt, and with nothing but my body weight and a small, hand-held water bottle, I am acutely aware that my own 26.2 could not have gotten much easier. I'm reminded of the poem written to commemorate the original, 1942 march and read at the opening ceremony:
We're the battling bastards of Bataan; No mama, no papa, no Uncle Sam. No aunts, no uncles, no cousins, no nieces; No pills, no planes, no artillery pieces. And nobody gives a damn. Nobody gives a damn. – Frank Hewlett (1942)
The marchers and I can't go back and change what happened in 1942 but, in our own ways, we can all give a damn.