Bib #17 – Squak Mountain Half Marathon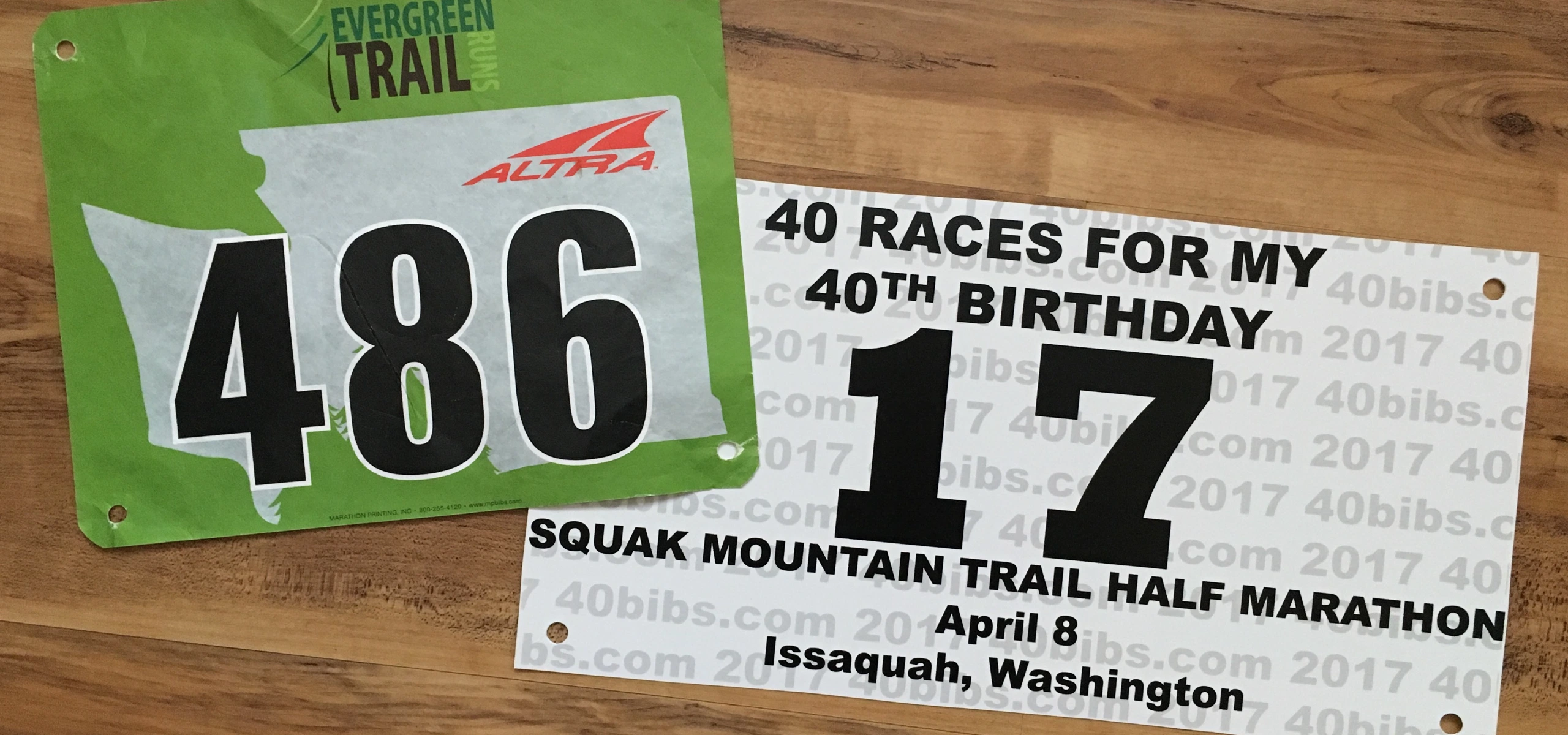 "486!" The volunteer shouted as I emerged from the trail into the parking lot that served as the Squak Mountain Trail Run main aid station. To her left, a large, black blow-up arch with the word FINISH plainly written in white lettering across the top.
"Can I take a half?" I asked.
"Sure," she said, gesturing with her right hand toward the arch.
Like a soccer player who finds themselves suddenly, inexplicably and embarrassingly holding the ball, I was on the other side of the arch. The side that doesn't say FINISH on it. Just like that, I cut my marathon in half.
I'd actually started my morning with a 50k. (You can check out my live start line video here, when I still thought I was going to run a 50k). Just three weeks out from the 81-mile Badwater Salton Sea, my longest race of 2017, I'm in the thick of long run training weeks. A 50k on Saturday, followed by the Blooms to Brews road marathon on Sunday, is not atypical. And, in Washington at this time of year, there are several road and trail racing options weekly, most allowing sign-up on the day of the race. So when I'd finally committed to both of these races less than seven days before, I glossed over a couple of crucial facts: Squak Mountain has over 9000 feet of gain in the 50k; and Blooms to Brews is 2.5 hours away, with a 7:30am gun time.
I write a lot about racing because it's my passion, but I also have a high pressure job and a husband. There is laundry and groceries and meal planning, none of which happen unless I make them happen, and which only occur on the weekends because most workdays are 10 hours long. And we are dog-sitting for friends this week, at their house. I've added an hour to my weekday, traveling to their house after work to sleep, and then back to my own before my 4:15am run. All of this got more real as race day approached. As did the cold, driving rain the forecast for Saturday.
At 2 hours and 15 minutes in, at the 8-mile mark, I decided to drop to the marathon. I would have to traverse the same, half-marathon course a second time, plus a 6-mile loop section of the course a third time for a total of 31 miles, a heartbreaking thought. Not to mention the race's 9-hour cut-off, which I was almost sure to miss. I have never missed a cut-off. It began to hail as we descended from the mountain.
I could hear the clamor of the finish line at nearly 12 miles, the point where marathoners checked in, and literally turned around to go back out and do the course again. My watch read 3 hours, 37 minutes. Times two would be over seven hours. Rain would start within the hour. And I had drive home. And shower. And do a load of laundry. And then there are groceries. My alarm would go off at 4am for the 2.5 hour drive to another marathon in the morning.
I emerged into the clearing with little on my brain, except that I needed to be done. The race wasn't too hard and I wasn't hurting. But it was just the one thing on Saturday that I couldn't do. And I needed not to do it.
"Can I take a half?"
For just a second, I stood on the other side of the finish arch in shock. Race rules allowed transfer from one race to another mid-event, so this was not a dreaded DNF ("Did Not Finish"). I would be listed as an official half marathon finisher. Still, I'd never done this before. I worried that I had somehow opened horribly magical door giving me permission to drop out of races in the future. I went home and did 7 more miles by my house as a sort of penance.
Quitting is not okay. But restoring balance is. I was way out of balance on Saturday; it took walking through that finish arch after 3 hours and 37 minutes to fix it.
(And if I did, in fact, open some magical door on Saturday, it didn't lead to race failure. My alarm would go off at 4am on Sunday morning for the long drive to Woodland, Washington, where I would run the second fastest road marathon of my life, missing a marathon PR by just 20 seconds.)