Bib #7 – Standard Chartered Dubai Marathon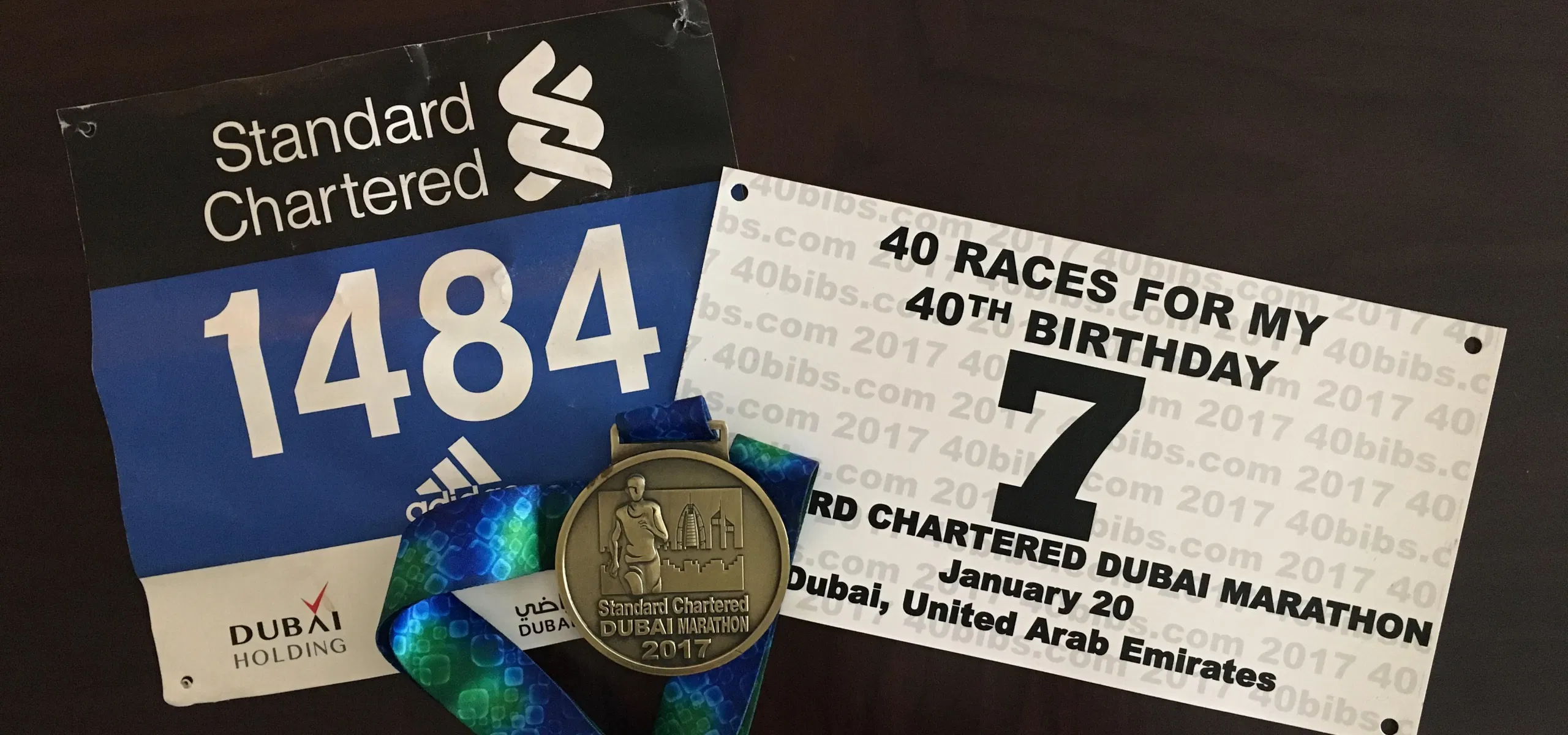 "Beat Bekele!" Sam, a member of my online running group, Run the Year, wrote me just before race start (check out my live start-line broadcast). Sam was referring to Kenenisa Bekele, the elite Ethopian runner  who was making a very public attempt at the World Record – 2:02:57 – at the Standard Chartered Dubai Marathon. I laughed, knowing I wouldn't yet be at the 21k split, the race's half-way point, in 2:02. It never occurred to me that, when the race was over, I actually would have beaten Bekele.
The Marathon course is an out and back. Runners exit the start and make a left onto Al Sufouh road and after approximately 5k, turn around and run back the way they came to 26k, and turn back around again. That means I would have two chances to see Bekele running at me as he made his epic run at history.
The lead men's pack first passed when I was around 2.5 miles, already a full three miles ahead. Elite runners, effortlessly moving together at a sub-five minute pace, are breathtaking. And, while I couldn't pick Bekele out of the pack, I looked forward to seeing him again in another 10 miles, where I hoped he would be leading.
In fact, Bekele never led. When the race's eventual winner, Tamirat Tola, came by me at my 10.65 mile mark with, as it turned out, just 19-minutes left to go, I didn't know who he was. I just knew he wasn't Bekele.
I wouldn't learn until my race was over that Bekele actually dropped out around 21k. I watched the video of him falling at the start, where he'd gotten tangled up in the other runners, hurting his elbow and calf. In that fall is the intersection between elite, professional runners like Bekele and the rest of us. How many times do we make big race plans for ourselves, and at what point do we give them up?
My Dubai race plan was simple – have fun and don't worry about the clock. After three consecutive days of racing in Walt Disney World, I'd almost hit a marathon PR myself on day number four, and that was just twelve days ago. Like Disney, Dubai was not an "A race" for me. Rather, it was a training run along the way to the Black Canyon 100k, just one month away. I expected to finish in 4:30-4:45, an "easy" pace with photo stops.
I have been running long enough now to be able to accurately estimate my speed and adjust accordingly without looking at my Garmin (although I wear it), a feat facilitated by the fact that there were kilometer markers on the course, but no time clocks. So while I knew I was running faster than a 4:30 pace (10:20 per mile), I also expected to naturally slow some as the race wore on. Early-race excitement is a trap for inexperienced marathoners – those that think they feel good at 10k or the half and continue to push, only to have the wheels fall off at 18 or 20 because they'd been running too fast the whole time.
I knew this "excited" feeling well, and told myself, not for the last time, to slow down.
I looked at my watch for the first time at the 21k split, the half-way point, and did some quick math. I had been running faster than intended and was on PR pace, but barely. To actually finish with a record, I couldn't slow down at all for the next 13.1 miles, an incredibly difficult task in the marathon. I was not optimistic, nor did I particularly want to turn this "fun run" into a race.
Rather, I continued to run at a pace that "felt good," telling myself that I would check again at 32k, the 20-mile marker. In the meantime, I began picking out and picking off runners – finding someone in the distance who looked as though they were running slower than me, and then passing them, a mind game many runners play to entertain themselves during races.
At 32k, the place where many marathoners will tell you the race actually begins, I checked my Garmin again. My legs hurt. I was tired, having been in Dubai less than 48-hours and my body still believing itself back in Seattle where it was approaching 10:00pm, well passed my bedtime. If I sped up, not an unreasonable amount this late in the race, but enough, I could set a personal record. On the 7th race day, I thought in my head, triumphantly, I set a marathon PR. I sped up.
After the race, Bekele said of his DNF (Did Not Finish, an official race designation), "I like to think of many scenarios, but [falling at the start] was definitely not one of them! See you in London in April!" Or, in layman's parlance, "It is my job to come out here and win races. It's not smart to continue to push, risking further injury, when there is no longer a clear up-side. I have a bigger agenda."
At 37k, mile 23, I abandoned my short-lived PR quest. I'd not sped up enough over the preceding 3 miles, and now needed to run my fastest 3 miles of the day to finish with a record. Still not completely out of reach, but certainly not in alignment with my bigger agenda – doing well at Black Canyon next month.
I finished Dubai in 4:18:31, slower than my PR BY 4 minutes and 52 seconds, 1:37 behind my Disney time and my third-fastest marathon ever. Well ahead of "plan."
I see a tired runner in this photo; missing the spark and some of the post-race high. But I also see a runner who is fit to race another day which, with 33 races left in 2017, is the bigger agenda.
Save