Bib #25 – Pigtails Challenge 50k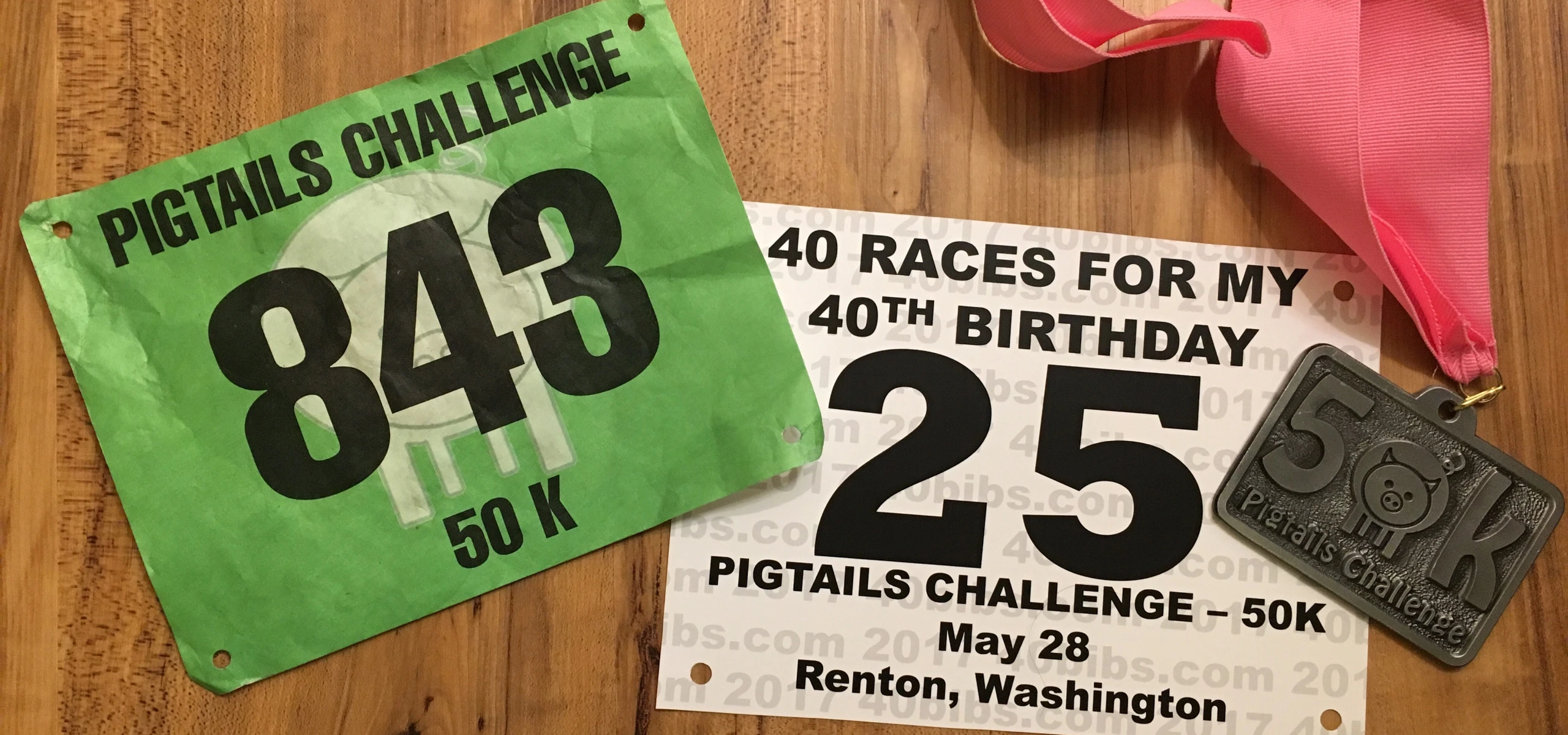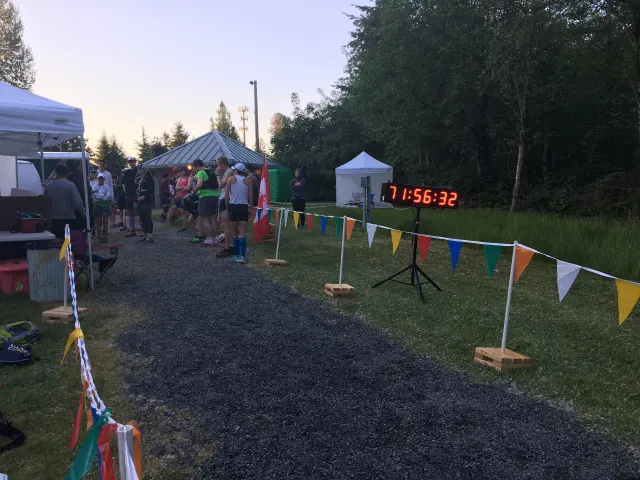 The race was nearly 72 hours old when I joined on Sunday morning.
Like the person who shows up for the end of a team project and then takes credit for the whole thing, I lined up for the Pigtails Challenge 50k start in Renton, 11 miles southeast of Seattle. This race was kind of a lark for me, having registered just four weeks ago from the back of an Uber when my friend, Sporty Diva Rose Coates, put out a call on Facebook. (This is also when I learned that my credit card is on file with ultrasignup, meaning I can 1-click my way to ultra race registrations; a discovery I anticipate may lead to future poor decisions, particularly after wine and smack talk on Twitter).
Four weeks post-81 miles at Badwater Salton Sea, I wasn't exactly trained for a 50k. I'd taken three weeks "off," logging slow and easy run/walks of up to 16 miles before commencing with training for the Suncadia Multisport Festival at the beginning of August. I'd replaced the 13 mile "steady long run 10% slower than marathon pace" on day 7 of my training plan with this 50k.
I was here to see the 200 milers.
I'd read about 200 mile races and, quite frankly, they didn't get the butterflies and pixie dust swirling for me like 100-milers. Still, when I learned the Pigtails Challenge included a 200 mile race, beginning on Thursday morning, 150 miles on Friday, 100 miles and 100k on Saturday, and 50k on Sunday, the prospect of being the fresh-face on a 10-mile loop course with people who'd been running for days was intriguing.
As with many ultras, particularly those without a great deal of scenery, my own race memory is spotty. I remember encountering Joanne at my mile 1.5 — her 98.5 — on her way to being the first female finisher in the 100 mile in 24:44:32. I remember spending two miles run/walking with Mark, a retiree from Alabama and two-time 50 stater, now embarked on a mission to run an ultra in all 50 states. And I remember Karl, the 67 year old 100-mile finisher who, in the final mile of his race and me with 9 to go in mine, leaned in conspiratorially and said, I think you're the third woman; stay focused.
Did I say this was supposed to be a lark? In shorter races, going out slow for too long can lead to a time deficit that is impossible to close. In ultras, however, going out slow leaves enough in the tank to be moving well when others are breaking down. I passed the second place woman just one mile after being told I was in third. With Karl's directive to stay focused, I completed my last, 10-mile lap 1 minute per mile faster than I'd completed the first lap, the second woman and fourth overall in the 50k.
I watched others finish as I sat in a camp chair, shaded by the aid station tent, and enjoying a veggie burger and a beer. Daro came in at 79:25:03, the second 200 miler and first male finisher. And April who, along with two pacers, stopped into the tent long enough for medical volunteers to cut the compression sleeves off of her calves and stuff bags of ice down her bra and shorts before she departed for her last lap. She would finish in 84:49:44, missing the 82 hour cutoff, but still finishing.
Now the butterflies and pixie dust are swirling.